Arm Lift Surgery Options From the Midwest Plastic Surgery Experts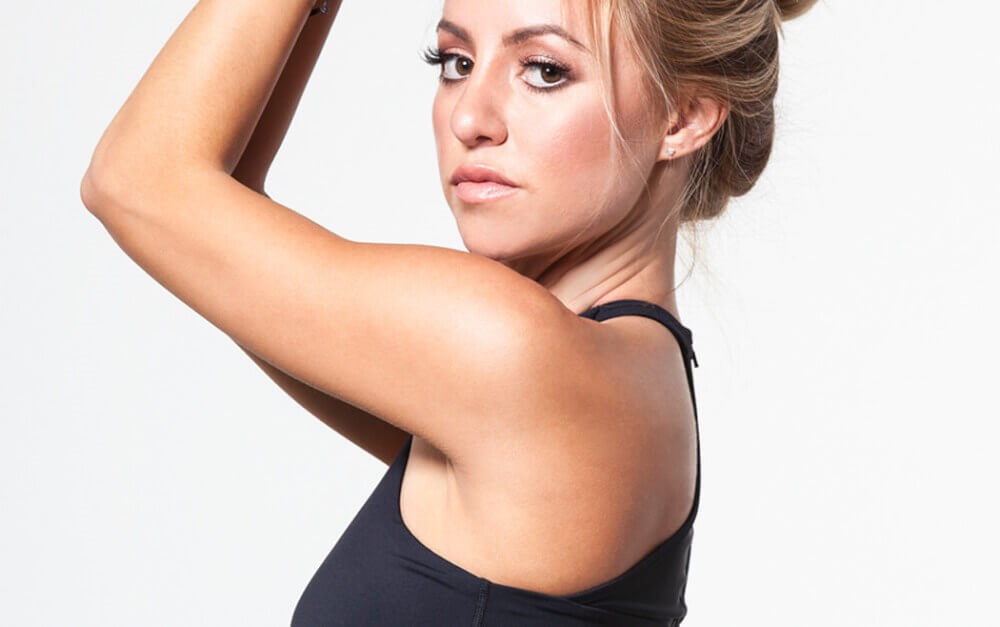 Over time as we age the body begins to wear down and muscled start to lose their tone and shape. When this occurs, fatty deposits take their place and areas that were once full and toned will begin to sag and droop. Other factors also cause this sagging such as genetics, age, lifestyle choices, hormones, and overall health of the individuals. Some of these factors combine in such a way that the upper arms begin to droop and lose the muscular tone they once had. This is what causes the unsightly underarm sag many people try to hide. Thankfully there is an easy cosmetic procedure that can be done to help reduce this and the arm lift surgery options that we offer here at Kouris M.D. Cosmetic Plastic Surgery are some of the most frequently requested plastic surgery treatments we perform.
Arm Lift Surgery Options
In medical terms, arm lift surgery is known as a brachioplasty. It works its magic by removing the saggy loose skin and tightening the muscled in the underarm area. This removes the wing like appearance that so many of us hate and restore a more toned and fit look and feel to the arm. It makes the arms look more uniform and fit and healthy which in turns helps you look and feel better as well! Brachioplasty has been a standard of cosmetic and reconstructive surgery for decades and here at Midwest Plastic Surgery, we have the experience and expertise to give you a confidence boost and to help you walk with confidence with exposed arms once again! When it comes to plastic surgery treatments we have what you are looking for and can find the arm lift surgery options that are right for you and your unique needs.
Plastic Surgery Treatments Just For You
While this is a fairly simple procedure compared to more advanced treatments like a facelift or tummy tuck, it is still a surgical procedure. This means that anesthesia is required and our medical team will discuss the options that are available for your arm lift. Which type of anesthesia works best for you is one of the things that Dr. Kouris and the team will finalize before your procedure along with recovery plans and any follow-ups that may be necessary. During the procedure, Dr. Kouris will make a small incision along the underarm down to the elbow, typically either down the inside or the back of the upper arm. Excessive skin will be trimmed back and removed, fatty deposits will be suctioned out, and underlying tissues will the pulled together to improve tone and smoothness. Depending on how much excess skin and fat there is and how much has to be removed, additional incisions may be needed; this can also impact how much scaring may be expected after the procedure. Recovery will also be outlined before the procedure and usually requires 1-2 weeks limited activity as the area heals. The most common side effects reported by our brachioplasty patients include bruising, swelling, tenderness, redness, and some numbness. Most of the time these fade within a few days to a week and within a month the only sign left is the incision scar. For the best in plastic surgery treatments and the finest in arm lift surgery options, we invite you to contact us today to set up your consultation appointment!
Your Consultation With Dr. Kouris
As you consult with Dr. Kouris, you and he will discuss your expectations for arm lift surgery. He'll also thoroughly explain what will happen during your procedure, what to expect after surgery, and any possible side effects. Dr. Kouris's staff is happy to help you with any questions you may have before scheduling your brachioplasty surgery and consultation. Please use our Contact Page online. We look forward to hearing from you and helping you choose the plastic surgery treatments and arm lift surgery options that are just right for you and that can help you get the results you are looking for. Call us today to get started!